Before the Show Stats (PART 1)
Edit
Date: February 21st, 2015
Location: Chicago, Illinois
Arena: Allstate Arena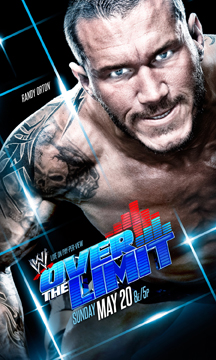 Crowd: 18,222
Commentators: Jim Ross and William Regal
Announcer: Bobby Cruise
EPV: Two
Part 2: http://apw.wikia.com/wiki/APW_Over_The_Limit_%28PART_2%29
Segment 1: Over The Limit Promo
Edit
Tonight, The APW Roster goes OVER THE LIMIT! On this show, you will see some of the best action in the world, titles will be on the line. Pride is also on the line, everything will be on the line. Goatface Bryan will defend his APW World Championship against Antonio Castanogli. Tom Carter will defend his APW Intercontinental Championship against Hal Castle. The APW Women's Championship will be on the line as well as some bad blood between Ameer and VOPW4LIFE as well as so much more.
Segment 2: Jim Ross and William Regal Open The Show
Edit
Pryo sounds off as the music plays*
Regal: "Thank you J.R, I'm defintely looking forward to the Steel Cage Match between Bryan and Castanogli, that's going to be a classic. Also, the other 2 titles matches should be great as well. We have to talk about the opening match here, a 2 out of 3 falls match, just added on by Barnes before we went on the air between Edge and Michael. Barnes might be a hated boss but he puts our roster in fantastic matches to excel over the rest of the competition. Let's get started"
Match 1: Edge vs Michael (2 Out Of 3 Falls)
Edit
Edge makes his way out with pryo this time, I guess it's special or something*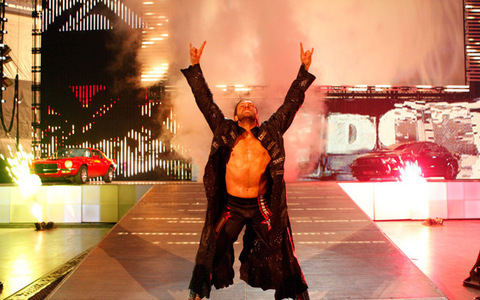 Michael's very angry and wants to break Edge's face*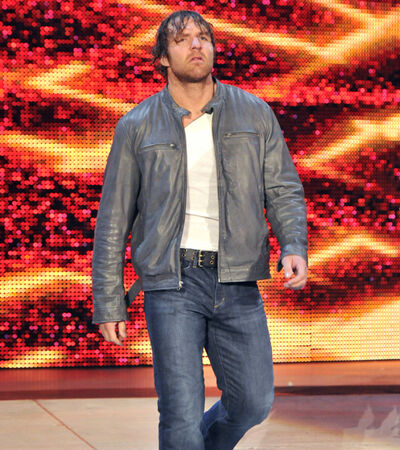 Michael starts off by punching and attacking Edge violently, he goes crazy and the referee tries to hold him back buy Michael ends up throwing him to the side and knocks him out. Some security try to make their way but Barnes stops them backstage, he says "Let's see what happens, get me a ref and make this no DQ."
Michael grabs a chair and bashes Edge over the head with it. He goes for the pin. 1...2..3! Michael gets the first fall. The referee checks on Edge and tells Michael to back up, Edge is busted wide open. Edge fights though and gets up, the second fall is underway and Edge runs at Michael and Spears him. He goes for the pin, 1....2...3! Edge gets the second fall.
We're on to the third and final fall as Edge attacks Michael and the 2 men go back and forth, Michael grabs Edge and drives his head into the chair with the Dirty Deeds. 1...2... Edge kicks out. Michael looks astonished, so he goes to grab and table and sets Edge on it. He goes to the top rope, Edge gets off the table and hits a Edgecution off the Top Rope through a Table! Both men are down but Edge crawls over the puts an arm onto Michael. 1...2...3! Edge wins. He is so beat up and bloodied that he is carried out of the ring, Michael is as well.
Segment 3: Mikey Salone Interview
Edit
Matthews is right there, ready to interview Mikey, Mikey pushes him away and grabs the microphone*
Mikey: "GO AWAY JOSH! No one cares about you. Now, put the camera on me Kevin. Look me straight in the eyes, do I look scared? *Kevin shakes his head no* You people think I'm scared of my opponent tonight, pretending to be all tough and scary. I've seen more scary people with their morning faces than this chump. LD, do you know who I am? I'm fucking Mikey Salone, I might just look like some rich kid on the street that you can just run over and not have to worry about it but I'm your worst nightmare.
You're a loser and waste of my presence and I'm going to prove that tonight when I take your little mask and shove it straight up your ass. The Empire will rise higher and higher every night and it continues TONIGHT" *He throws the microphone to the ground*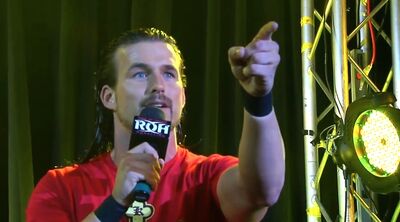 Match 2: LD Sanchez vs Mikey Salone
Edit
LD comes out and emotion fills inside him, it's his first big match.*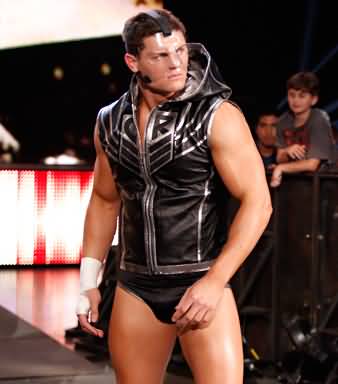 Mikey makes his way out with a smug look on his face, ready.*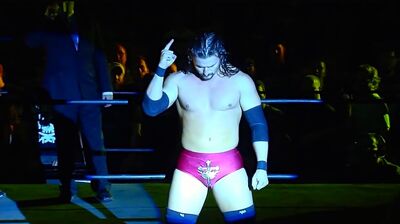 Both men lock up and we get going with some basic wrestling, headlocks, drop downs, leg locks. Mikey grabs at LD's mask and twists it, he's a hard time getting back and gets superkicked in the face. Salone goes for the pin, 1..2...Kickout by LD. LD puts his mask back together, and turns right into a hard jab and kick by Mikey, he sends LD to his knees as he runs off the ropes and hits a Shining Wizard. He goes for the pin again.
1...2... Another kickout by LD. Mikey yells "Give up" and LD slaps him and yells "Fuck You!" and turns him around and hits the Cross Sanchez. 1...2...Mikey violenly kicks out. LD grabs Mikey and sets him on the top rope, Mikey kicks him away and hits a Dragonrana. Mikey winks at the camera to Bryan. He goes for the pin but stops and sets up for the Bad Dream Driver, LD is able to stop it halfway through and rolls up Mikey. 1...2...3! LD escapes but then turns around into a RKO from Barnes. Both men beat down LD as the fans look in digust. He lets Salone hit the Bad Dream Driver as they leave LD out cold.
Segment 4: J.R Hypes Up Ameer vs VOPW
Edit
J.R: "After that act of cowardness from The Empire, why do they keep getting away with this, Regal?"
Regal: "Ross, Barnes signs us checks, he can do anything he wants, don't you get that?"
J.R: "Well, let's talk aobut the next match, Ameer vs VOPW. What a rivalry these 2 have had, after APW Backlash they had the match that we thought was for Intercontinental Championship but it ended up not to be. Barnes stripped Ameer from being champion and handed it to Carter in an act of greed and power. This should be another great match between the 2 men as we send it to the ring and Bobby Cruise."
Match 3: Ameer vs VOPW4LIFE
Edit
Ameer makes his way out first with bad intentions on his mind for VOPW.*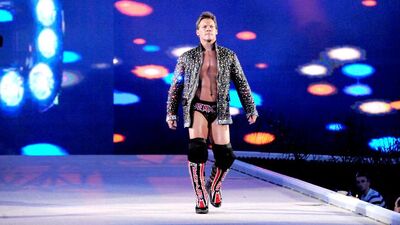 VOPW comes out but gets stopped by Barnes, he whispers in his ear that if he can't win tonight, he's gone from The Empire, VOPW has a fire lit up in his ass now.*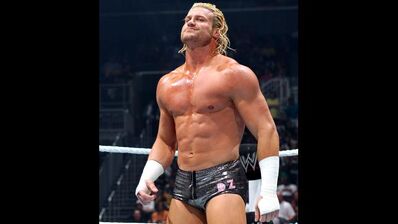 Both men run at each other and start to give each other vicious shots. Both men try for dropkicks but they hit nothing but air. Both men lock up after and VOPW gets Ameer into a headlock and punches Ameer right in the head, sending him back a bit as VOPW hits a huge Dropkick that almost knocks out Ameer.
First pin here by VOPW, 1...2 No, kickout right at 2 from Ameer. Ameer tries to get up but gets a side kick right to the head from VOPW, Ameer looks out cold as VOPW starts pounding on Ameer. He lets him get and tries for another knock out dropkick but it gets caught as Ameer puts VOPW into the Walls Of Ameer. the pain is so unbearable, VOPW fights and fights, he's having so much pain into his back and he can't maneuver out, he's able to get to the ropes though.
Ameer lets go and VOPW rolls out, trying to get a breath of fresh air but gets caught by Ameer and thrown into the barracade. Ameer then grabs VOPW again and throws him into the post. VOPW pushes Ameer away and rolls into the ring. Ameer sets up for The Codebreaker but gets caught mid-jump and VOPW is able to struggle his way to get Ameer up in a Brainbuster position and smashes him onto his knee. He goes for the pin. 1..2..3! VOPW beats Ameer and stays in The Empire. After the match Ameer goes for a handshake, VOPW walks away.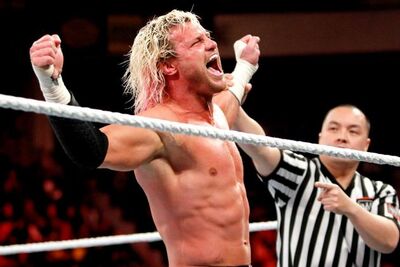 Segment 5: Barnes Promo
Edit
Barnes: "Oh, you guys love me. Anyway, I came out here tonight to pretty much brag, The Empire is the hottest faction in The WORLD, not some Bullet Club and especially no Authority, Kingdom or any of those B+ plus factions and after tonight, we continue our dominance, no one can stop The Empire. NO ONE!
Tonight, Goatface is going to prove why he's an true champion, Tom Carter is going to teach Hal Castle. LD got away with his 'victory', it was a fluke. VOPW proved himself as a true member of My Empire. We will rise and no one on this roster can stop that.
We Want Coren Chants break out again as Barnes looks disgusted.* Stop chanting his name, he's gone. Coren will never-"
Coren: "I'm still breathing Barnes, I'm coming back and you can't stop me. Tick Tock Barnes, I'm always watching, always listening and you won't know when or what is going to hit you when I come back."
The lights turn back on and a holographic image of Coren scares Barnes and he falls down, he's scared to death of Coren and will be on his toes until the man makes his return, Barnes just sits in the ring, scared shitless.